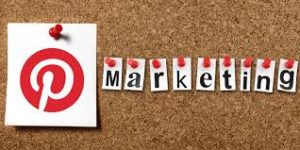 One of my favorite social media sites has hit over 200 million users per month. This is why people love marketing on Pinterest for building their business. Pinterest is not the #1 social media site, but they are growing quite fast. This fun and playful visual platform is clever in ways of driving traffic to your websites, but also creating leads and sales.
Pinterest users want to be inspired and are looking for ideas, which is why people love marketing on Pinterest. Instead of being bombarded by politics and rants it is a great place where users can organize their next vacations, pick out furniture for their living spaces, or even look at trending makeup tutorials.
1. 60% of Pinterest users are women, however 40% of new sign ups are men. Men are discovering Pinterest for their daily activities from pinning haircuts and styles to picking fashion or collecting pins of their favorite car. It becomes a tool that connects the user to all different types of interests and hobbies.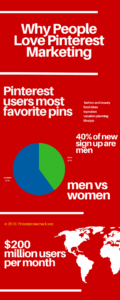 2. 76% of pinners saved pins for buying later. As a loyal Pinterest user I can say that it is easy to save a pin, and go back later to purchase what I saved such as fashion jewelry, wedding accessories, and beauty products. This is a great advantage for different types of businesses. It's user friendly in the sense of being manageable when visiting an outside website to purchase an item and returning back to the Pinterest platform. So Why wouldn't you buy?
3. 50% of Pinterest users are international and 75% of new sign ups are outside of the U. S. Not only is your brand or product getting national exposure, but it also reaching eyes all over the globe creating more visual reach for more leads and sales.
4. 1 of 2 users are millennial. The median age on Pinterest is 40 years old, and 50% of their users are millennial. Millennial love Pinterest because it gives them fresh ideas and inspiration in their lives when it comes to planning. According to a Pinterest focus group millennial's loved using the platform for deciding on topics such as interior decor, style, food ideas and even how to make cocktails. Nice!
5. It's popular to use as search engine. Instead of using Google, or Yahoo to search, Pinterest has become a great search tool with visual content to explore. There are over 2 billion searches per month on Pinterest. It acts as a catalog for their users.
6. 60% of Pinterest households have children 5 years or under. You know what that means? Family targeted products! Pinning products for birthday parties, to pinning children room decor ideas, and many more. Another niche that has great marketing potential to reaching that perfect customer for your business.
7. Pinterest integrates with your website, Facebook profile, and twitter accounts. This is great for your customers to link articles, products or pictures from your website or social media platforms back to their Pinterest boards to keep you bookmarked for future buying and promoting.
Pinterest is a fun user friendly platform that continues to grow and become more innovative on generating sales and leads for many different styles of businesses. Use this social media visual board to create more engagement for your brand and drive more traffic to your website or blog.
Comment and let me know what you think about Pinterest!
Enjoy Pinning!
---