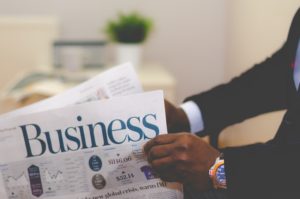 Learning about how to build an online business with an affiliate marketing  can be a great way to break the ice and start with something that can build independence and sustainability.
Creating a platform where you can sell other people's product and make commissions up to 75% presents opportunities in building six and seven figure businesses. This can be done in multiple niches in the online marketplace such as popular ones like fitness, beauty, dating and more.
So if you don't know where to start when it comes to creating a product for your business which can be troublesome and time consuming check out using affiliate products to monetize your current business or start a new one.
How does Affiliate Marketing Work
People are always curious on how social media influencers make money, well they use affiliate marketing as one of their top income sources. 80% of businesses offer affiliate marketing and it is quite easy to set up.
Just Google a company or product your interested in and add the keyword affiliate after it and you will be surprised the wide variety of product that are at your finger tips to sell and make a commissions. Sign up for affiliate products that best fit your customer or your brand. It's that simple!
Once you get your affiliate platform set up this style of business can offer you MSI, which is multiple streams of income. This is what millionaires and billionaires use to compound their money making. You create your sales systems and have multiple products being sold for you 24 hours a day.
For example you might have a fitness blog were your selling a fitness program and making a commission off of that but you also are selling an eBook on Keto recipes which you make a commission and then maybe in a YouTube video they saw you do a workout in which you were using resistant band that would be great for them to use as well. That's a commission too!
So you see once you build your affiliate marketing platform the right way you can stack and stack affiliate products and create systems for them that will work for you without having to do the same work over and over again.
Where Do You Start
There are tons of programs that offer mini courses on affiliate marketing sending you around and around in confusion on the correct way to get started. Will you learn something? Sure! However, what is your first steps on building an affiliate marketing business and how do you execute making your first sale?
Well there are a few tools or resources that are needed to start your online affiliate business. It's important to have these basic tools in order to have your own independent platform creating security and sustainability.
You can be an affiliate for companies and make money but the idea is to create automation so you can continually grow your business rather than have a flat-line which you would need to start all over again. Doing it the right way first is vital.
3 Reasons You Will Need Internet Traffic Academy
Email Software
An email software also known as an autoresponder stores the collected emails of customers or clients interested in your product or service. This is your business. You can communicate with them offering them value and updates on what's going on creating a relationship. Some companies you can check out are Get Response, Aweber, and Constant Contact to get ideas of what is the best option for you.
Landing Page or Squeeze Page
The landing page or squeeze page is a web page that your visitor is directed to from an ad or post which explains to them the offer or service that is provided. The landing page has an opt-in form that collects the email, name, and other information of the visitor which then directs them to more information.
The email is stored in the autoresponder where communication with the visitor begins. The goal of the landing page is to convert your visitors into a leads and possible sales.
Join The Four Percent Group For Entrepreneurs Here!
Website Traffic
Once you have your autoresponder and your landing page set up now it's time to get website traffic or visitors to your offer. There are all different types of traffic an we can get deep on the types but two styles we can discuss now are organic and paid.
Organic traffic takes more work and longer to see results however is considered free since its due to SEO (Search Engine Optimization) such as content that is found by Google, Bing and even YouTube.
Paid traffic is a result of a visitor visiting your website or landing page due to an advertising campaign promotion which can be done by pay per clicks on Google ads, social media advertising, influencer advertising, and more.
Discover How To Become A Traffic Expert With Internet Traffic Academy!
Learn from this Mass Traffic Blueprint!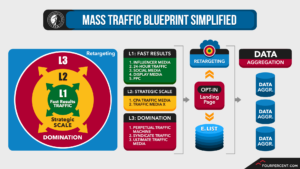 Link Tracking
So now you want to keep track of your affiliate business and optimize what's working and get rid of what's not working. In order to do this it's important to track your links on all your advertising campaigns and content posts so that you can see were your most valuable engagement is happening. This is how you track the progress in your affiliate business and split test what you need let go.
In conclusion, I hope this showed you how an affiliate marketing machine works. If you want to take it to the next level creating your own hub/website would be the next step. This is another way for your customers to connect with you and also find valuable content that can keep them updated on future product and offers.
If your interested in a step by step program check out the Four Percent Challenge for Affiliate Marketers.
The Four Percent Challenge is an A to Z blueprint on putting your affiliate business together.
Please comment on what you would like to know more about in affiliate marketing such as products and more…
Thanks for reading!
---